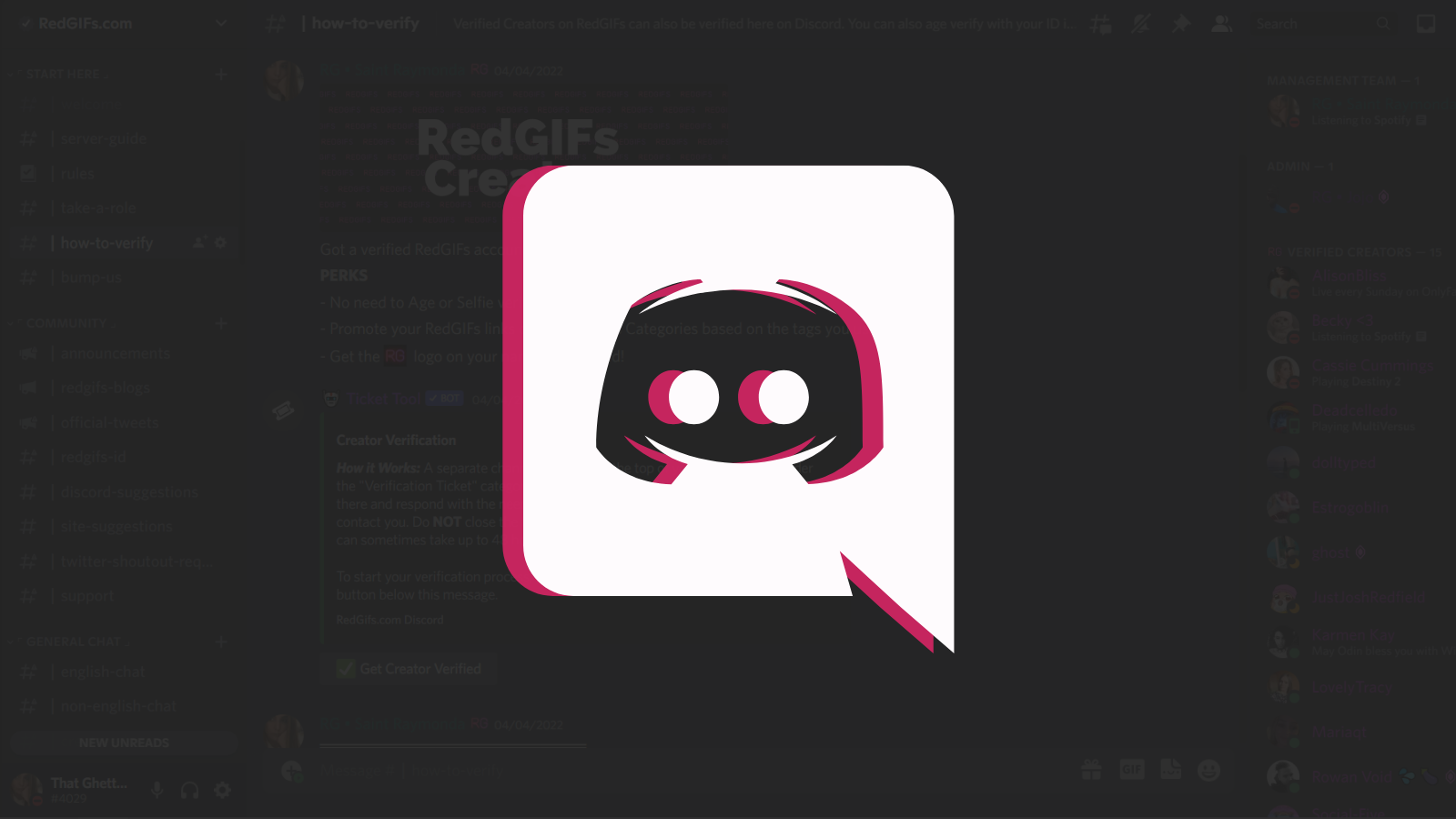 26 Aug

Introducing Discord
What is Discord?


Ok, let's start with the basics. What the hell is Discord?
Discord was released in May 2015 and started it's life as a video game focused chat service. Today however the platform has shifted and is home to all sorts of communities, including NSFW ones. Discord now supports video calls, voice chat, and text, allowing users to interact however they please.
With over 150 million monthly users, Discord is a place where people can hang out, fanbases are built, dedicated Discord servers are made, and members can promote any type of content they have to offer.

Which brings us nicely to…
RedGIFs Discord


At RedGIFs, we launched our Discord Server in March 2022 and it's been growing rapidly ever since! We now have thousands of server members and adult content creators connecting and engaging with each other.
From regular users to RedGIFs creators, we want our community to have a space not only to distract their mind when they need a break from their day to day, but to promote and showcase their content on our designated channels.
What to expect in the RedGIFs Discord Server?
English and non-english chat channels

Weekly Events and competitions

RedGIFs bot posting trending content direct from RedGIFs.com

Channels such has Selfies, Artwork, I Took a Pic, and gaming

General Support, Discord Server & Site suggestions channels to share any feedback
What are the perks for RedGIFs Verified Creators?
Verified Creators are free to promote their content/links to all members

Exclusive Creator Lounge to chat and meet other creators

Twitter shoutout channel to request shoutouts for our Twitter Network.

RG Logo next to name to let everyone know you are a Verified Creator

All creators are displayed separately from our regular members on our sidebar.
Join our Discord server by clicking this Invite Link – https://www.discord.gg/redgifs – Head to the channel #how-to-verify to verify as a creator – all you need to do is send us your RedGIFs URL link and the email associated with your account. 
iOS Users


Discord users who Access the Discord app through their iOS products cannot Access NSFW servers on their devices.
We have the solution in just 2 easy steps:
Join our Discord server on your PC and open a ticket to verify as a creator.

Once this is completed, you'll be asked if you have an iOS device, and if so, you will be given our iOS trusted member role.

This role will give you the permissions to Access the server on your iPhone / iPad.